Tour stops
About this stop
Location: Junker Auditorium Corridor
Artist: Ralph Gilbert, Atlanta, Ga.
Year: 2019
Medium: Oil on canvas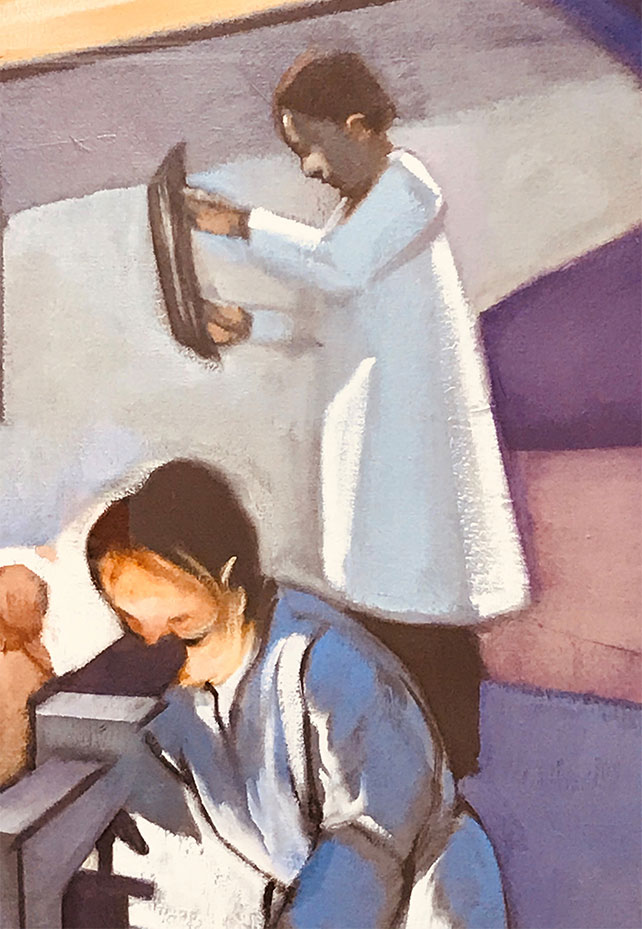 From the artist, Ralph Gilbert:
"The Penn State Health Milton S. Hershey Medical Center and Penn State College of Medicine art project was enormously challenging. As an artist, I am not of the world of medicine, so there was much to see and absorb before setting out to design the paintings. Generally, works on this scale are viewed at a distance in large public spaces and avoid detail in the service of a cohesive and compelling narrative.
"Along those lines, I set out to portray the culture of the medical center and the college in a style that was evocative, not illustrative, and creating a cohesive whole was the major concern.
"The work had to succeed in broad terms as a panorama, not as technical illustration. That meant that much of the imagery would be suggestive rather than literal – the idea of a microscope would be conveyed, but not with exactitude or in detail."


Finding the next stop
Continue following the signs toward the College of Medicine. Once in the College of Medicine Lobby, the next pieces, "Toward Healing," will be on the right.
Explore Stop 10: Toward Healing